If there's an issue with your pod—it needs to be cleaned, it's unplugged, the door isn't locking—it's helpful to list a phone number or email within your organization so occupants can share direct feedback and get the help they need.
Example of an in-pod sticker: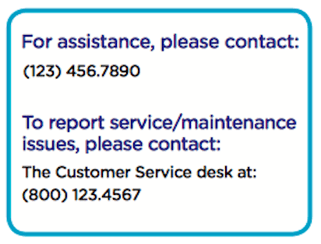 For the best visibility, we recommend this decal be placed in the following location on your pod: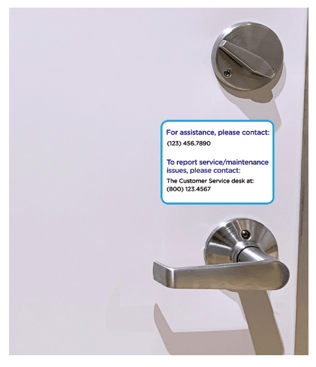 Self-service
Access our self-serve decal program here.
Download the zip file containing the decal program files.
Review the "READ FIRST" document to determine which Maintenance/Assistance decal best meets your needs.
Once you've determined the decal you need, print it using the supplied file.
Type in your custom message (typically a phone number) in the editable area.
Use your own vinyl printing vendor to print.
Full-service
Contact us at customersuccess@mamava.com and let us know which decal you need. We'll provide you with the cost to have your decal printed and mailed to you.