Yes we do! Too many breastfeeding mothers still pump breast milk in public bathrooms because most facilities lack lactation accommodations.
Even when public places have lactation spaces, they often don't let moms know about them (or how to find them).
So to help more moms find your Mamava pod(s), we suggest placing signs at the entrances to all restrooms—and other relevant places in your facility—to let moms know you provide a dedicated lactation accommodation.
We offer two versions (either standard with app or customizable) and two sizes, depending on your needs.
Standard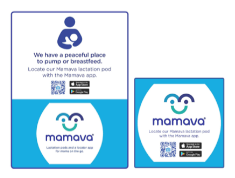 Customizable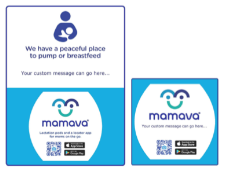 Decals can be accessed and printed through our
self-serve decal program
or we can price out printing and mailing your decals to you.
---
Self Service
Access our self-serve decal program here.
Download the zip file containing the decal program files and be sure to review the READ FIRST document to determine which wayfinding decal you need.
Print the appropriate decal(s) using the files provided.
Use the editable area to enter your custom pod location description.
Print them out using your own vinyl printing vendor.
---
Full Service
Reach out to us at
customerexperience@mamava.com
and let us know which decal(s) you need. We'll provide you with the cost of printing and mailing your decal(s) to you.