Now that you've got a great amenity, be sure all breastfeeding and expectant parents know about your Mamava pod(s)! Here are a few ways you can help them find the space easily— we suggest you do them all!
---
Mamava mobile app: Include your pod in our app to highlight your support of breastfeeding and ensure a more consistent experience for your guests and/or employees.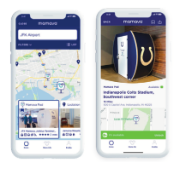 ---
Wayfinding decals: Place a decal outside of each women's restroom (and other relevant places within your facility) so that parents know there is a designated space to pump or breastfeed that's not a bathroom. Mamava's decals are available to download and print yourself or we can order them for you! Check out this article for more information.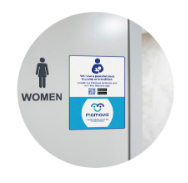 ---
Directional signage: Adding box signs, stand-up banners, banners, and wall decals are all great ways to help parents find your Mamava pod(s).

---
Maps + directories: Add the location of your Mamava pod(s) to all maps and directories of your facility—any guides used to indicate restrooms, elevators, or other amenities. And don't forget to include them in online or digital directories (e.g., apps). Check out our Promotion Kit for helpful tips on adding Mamava to your web.

---