If people are having trouble opening your Mamava pod, you may need to replace the battery in the lock.
We wish everything lasted forever. But if your Schlage lock has a dead 9V battery, rest assured that it's easy to replace. Not sure if the battery is the issue? This article will help you.
What you'll need
One brand new 9V alkaline battery
A standard size Phillips head screwdriver (#2)
The brass door key that came with your pod
Tape to secure the lock to the door (optional, but definitely helpful)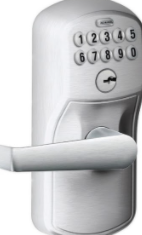 How to replace the battery
These directions are for V3.3 pod and under. If you aren't sure what version your pod is, this article will help.

Here's a video to show you how to change the battery:
You can watch this and follow the instructions below to change the battery.
Open the door using the brass key that came with your pod.

If you've misplaced the keys, here's how to request one.

Unscrew the inner faceplate/ handle with your Phillips head screwdriver and remove the two screws. It's helpful to tape the outer keypad and handle assembly to the door to prevent it from falling off and damaging the wiring. (We've learned the hard way.)
Gently remove the outer assembly—being mindful of the wires that connect it to the door.
Hold the unit in your hand—with the handle down—and you'll see a small black cover on the back.
Remove the cover to reveal the 9V battery.
Pull the old battery out and remove the connector.
Connect a new 9V battery to the connector and insert back into the lock.
Replace the cover and make sure the wires aren't pinched.
Put the outer lock assembly back on the door and make sure the wires don't interfere with the latch mechanism.
While holding the outer unit, replace the inner faceplate/ handle. The square axle must go through the latch mechanism and into the square hole in the outer unit.
Fasten the screws.
Once you've replaced the battery, be sure to check that the lock is working properly. If the code is not correct, you can learn more about changing the codes with this article.