Mamava pods equipped with Smart Access technology enable pod access with the touch of a button. Like magic. But there are other ways to get inside too—including a combination keypad and old-school keys.
Pod access with Mamava app
The app empowers breastfeeding parents to open the pod with a press of a button. (Make sure your Bluetooth is turned on!) The app also shows pod availability, indicates how long a user has been in the pod, offers vacancy alerts, and helps ensure the pods remain accessible to the people who need them (not just someone who wants to charge their phone). Learn more in this article.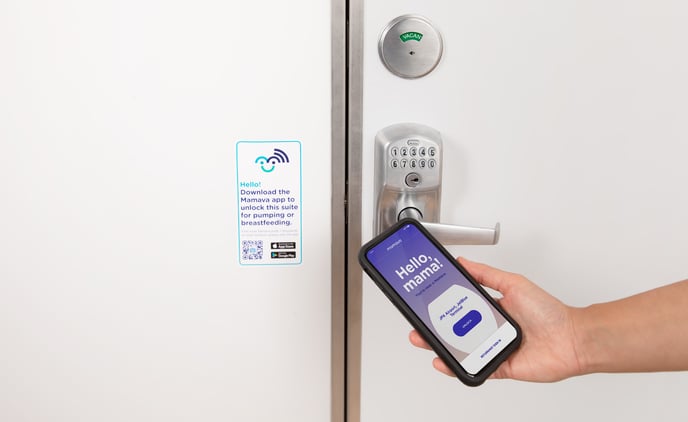 Pod access with keypad + code
The keypad lock can also be unlocked with a four-digit code. If you aren't able to unlock the door with the app, the app will provide you with a one-time unique access code.
Pod access with keys
Mamava pods also come with physical keys. If you're unable to access the pod with the app or the keypad, we recommend contacting the facility to see if they can open the pod for you. (They may have an access issue they aren't aware of, so letting them know you're having trouble is important!)
Pod access with door handle
Mamava Solo Base pods have a keyless handle, so check the occupancy status on the door. (And don't forget to engage the deadbolt once you're inside!)